28 August 2023, Dubai, UAE: The 6th edition of the prestigious Burj CEO Awards has honored some of the globe's leading entrepreneurs, humanitarians, and business leaders at a spectacular ceremony hosted on an exclusive luxury Mediterranean cruise from Greece to Turkey on 22-27 August 2023. Held under the patronage of His Highness Sheikh Juma Bin Maktoum Juma Al Maktoum, royal family member of Dubai, UAE, and sponsored by GTC, a global online-trading platform. The awards event recognized outstanding individuals and organizations across more than 50 different categories.
I had the privilege of winning this year's Award for Global Business Leader at the Burj CEO Awards 2023. It is an incredible honor to be recognized among such esteemed individuals and organizations. This recognition highlights my 13-year journey as an entrepreneur and BPO expert. I've actively supported startups with funds and guidance. Additionally, I co-founded the "Albanian Business Association" (now ABSL Albania) to boost BPO businesses and aid Albanian entrepreneurs.
The success story of Vigan Group, an investment firm focused on innovation, has been fueled by my dedication to business excellence and empowerment. Through Vigan Group, I have been able to make a lasting impact on the business world and set a resounding example for others.
The Burj CEO Awards, often referred to as the 'Oscars' of the business world, is renowned for staging extraordinary celebrations to honor influential figures in global industry. The event was pioneered by CEO Clubs Network Worldwide, an award-winning, membership-based international organization with representatives from various industries and chapters across the globe. Since its launch in 2016, the Burj CEO Awards gala has recognized and awarded more than 300 business leaders and organizations for their outstanding achievements.
Dr. Tariq A. Nizami, Founder & CEO of CEO Clubs Network Worldwide, emphasized the significance of the awards, stating that excellence is never an accident, but the result of high intention, sincere effort, intelligent direction, skilful execution, and the vision to see obstacles as opportunities. These awards celebrate the extraordinary achievements of international leaders who have embraced excellence and made a lasting impact on the world through their dedication, innovation, and unwavering commitment to success in business and other sectors.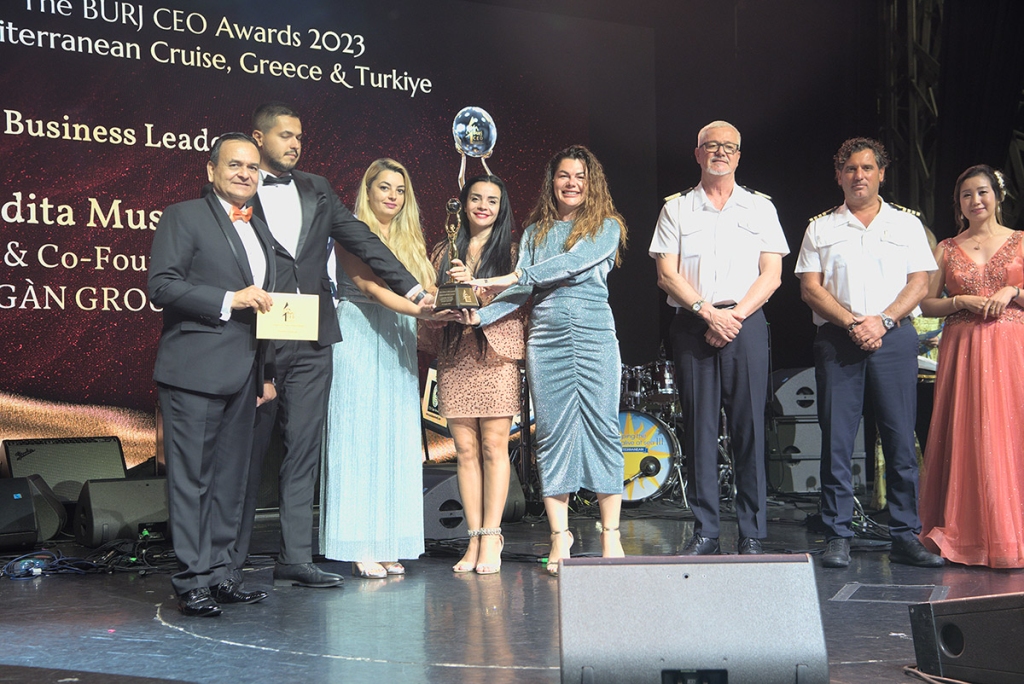 \Ms. Sarah Dong, Managing Partner, added that leadership is not just about reaching the top; it's about empowering others to rise with you, creating jobs, and manifesting dreams. CEO Clubs is proud to be one of the great supporters of entrepreneurship and leadership development globally, and the Burj CEO Awards serve as a platform to showcase and honor those who have excelled in their respective fields.
The Burj CEO Awards ceremony was a night of glamour and inspiration, with attendees from around the world gathering to celebrate the achievements of the honorees. The luxury Mediterranean cruise provided a stunning backdrop for the event, creating an unforgettable atmosphere of celebration and recognition.The winners of the Burj CEO Awards were selected through a rigorous evaluation process, considering factors such as business performance, innovation, social impact, and leadership qualities. The judging panel consisted of esteemed industry experts, entrepreneurs, and professionals from various sectors.
Being recognized as the Global Business Leader at the Burj CEO Awards 2023 is a testament to the hard work, dedication, and passion I have put into my entrepreneurial journey. It is an affirmation of the impact I have made in the business world and serves as motivation to continue pushing boundaries and achieving even greater heights.
I am grateful to the organizers of the Burj CEO Awards and the esteemed judging panel for this honor. This recognition inspires me to continue making a positive impact, not just in Albania but on a global scale. I am committed to driving innovation, fostering entrepreneurship, and creating opportunities for others to succeed.
The Burj CEO Awards 2023 will forever be a cherished memory, and I am humbled to be counted among the exceptional individuals and organizations who have received this prestigious recognition. I extend my congratulations to all the winners and express my gratitude to everyone who has supported me on this journey.
As I reflect on this achievement, I am reminded of the responsibility that comes with being a global business leader. I will continue to lead by example, mentor aspiring entrepreneurs, and contribute to the growth and development of the business community.